Well, look what the cat dragged in.
Me.
Would you like to know what I've been up to for the last several weeks?
Of course you do.
You should check out my first video log. What does my first (and probably last) vlog entail? Fifteen minutes of my loud country ass rambling about loud country things. I also choke on some phlegm. And I have noticeable trouble pronouncing the world "vlog".  And hey, I also tell the harrowing tale of receiving a full body mammogram in a glass shower.
Don't pee yourself from excitement just yet. Watching me speak for fifteen minutes whilst soaked in urine isn't a good time.
Anyway, I'm back in all of my glory.
And I'm ready to rant.
I hope you're ready to listen.
So, the most wonderful time of the year is upon us.
And I dig Christmas. I dig the fact that we celebrate my Savior's birth. I dig the tinsel and garland and casseroles and cookies and Clark Griswold and all that jazz.
Things I don't dig?
Elvis Presley's "Blue Christmas".
Cheesy Christmas storylines and bad acting on The Hallmark Channel.
Grown women that wear Christmas sweaters and Santa hats to Hobby Lobby.
Spending 45 minutes wrapping a gift, only for the result to look like it has been involved in a freight train accident.
Overweight people digging through the underwear bin at Wal Mart for gifts.
True story. Since I needed to get my Echinacea fix, I popped into the local Wal-MartS for some Airborne last night. There he was. All 743 pounds of him. His stomach and non-existent core muscles were hanging 3 feet over his holey green sweat pants. And he was digging in a bin for clearance priced underwear. He pulled out a pair of pink silkys that resembled a tarp. They had bows on the ass. And he threw them in the cart, hoping his significant other will open them on Christmas morning and think it such a romantic gesture that she'll be willing to jump on him, slap that hip and ride that wave, right there on the dining table where they will later eat sweet potatoes with Aunt Maude.
Welcome to Tennessee.
So, after witnessing that fiasco and grabbing the Airborne, I happened by the As Seen on TV aisle.
No shit.
Are you telling me that I can purchase that cheap, useless garbage that I see on television at 3 am when I'm suffering from insomnia and waiting on my Equate brand sleep aid to kick in?
What?
I can purchase this crap right here in the Wal-MartS, and I don't have to pay shipping and handling, or worry what the hell "Sorry, no COD's" means?
Excellent.
So I browsed.
There was the Dream Lite.
"Hey, Billy, turn off that effing unicorn and go to sleep, dammit!"
And the Humunga Tongue Dog Ball.
"Because I think it's hilarious that my Boxer runs around with a tongue hanging out of his mouth. Someone call Bob Saget immediately. This could win us ten grand, Thelma! A video of our Boxer, Dex, running around the back yard with a ball that resembles a tongue could win us big bucks! I mean, it really looks like that huge, floppy tongue is hanging out of his mouth!  I could quit my job at the blow up doll factory! Get Bob Saget on the phone, Thelma! Now!"
Is Bob Saget still on AFV? No?
And the Shake Weight. It's meant to tone your arms. Looks like your wanking it off if you ask me.
Next to the Tortilla Bowl Maker were Puppy Pads. You know those 8×10 pieces of astroturf that serve as holders for your dogs piss and shiz while you're gone to work for 8 hours?
Hey, there's a Cami Secret. Because I can't bear to go through another sexual harassment suit.
(Side note…my husband saw the before and after photos on the Cami Secret. Of course, before being these huge milk bowls protruding from a faux-cashmere sweater. The after photo being those milk bowls covered with the Cami Secret. Hubs says, "I don't get it. The before photo looks fine." Perv.)
Then I saw my favorite. My absolute favorite.
The Magic Mesh.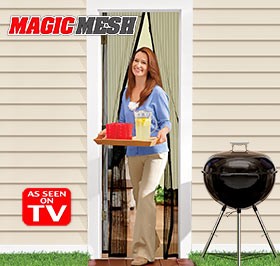 Ah, the Magic Mesh.
Because you're too effing lazy to open and close a door.
I get the idea. Poor woman doesn't want to spill that lemonade, and if a traditional door was there, it's a very good possibility that she may spill the lemonade while trying to open said traditional door with her arms full of lemonade and cups. Lord knows she doesn't want to spill the lemonade and ruin the whole freaking evening. I mean, surely there are some fake, plastic burgers on that fake, plastic grill. She definitely doesn't want to ruin the fake, plastic cook out by spilling that glass pitcher of lemonade.
And it doesn't just work with lemonade, either. She can barge through the Magic Mesh with a 13×9 casserole dish if she likes. Or a cake. Or a sopping wet dog doused in flea shampoo. Pesky doorknobs don't stand in her way.
Or, hey, here's an idea. Ask your lazy beer drinking husband to get off his fat ass and open the door for you.
If chivalry isn't totally dead, he can even close it behind you.
You may say, "Whoa, Susannah! What if she's home alone? What if there's no one to open the door for her?"
To which I reply, "Oh, that's simple. Set whatever is in your hands down. A table will work fine. Turn the door knob, open the door, pick up your belongings, exit the building, and use your foot to pull the door closed behind you. Or, if you like, leave the door open. If you have a fly or mosquito issue, then use the before mentioned method of pulling the door closed with your foot."
Besides being totally useless, there's another con to the MM.
Hey, check out this criminal that's so easily let himself inside your home.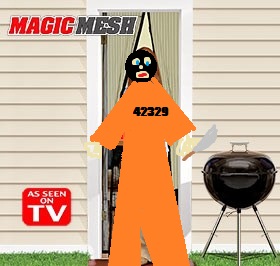 He's fresh out of the state pen, in his orange jumpsuit, ski mask and sharp Ginzu knife (also seen on television) in hand. I'd really hate for the Magic Mesh to play a role in your Magic Murder.
I don't know if it was the 3 inches of dust sitting on these products since no one buys this shiz or if my sinuses were acting up, but I had the sniffles and had to get home and take an Airborne.
If this blog post hasn't put you in the Christmas spirit, I don't know what will.
Maybe this will. It's a video of me playing my absolute favorite song of the season, O Holy Night. I play the piano by ear, so when I'm fortunate enough to figure out a song, I like to share it with others. It's if I'm saying, "Hey, look what my ears made my fingers do."
And if you watched the vlog, don't worry. This video isn't half as terrifying.
(Visited 29 times, 1 visits today)