I've been a fan of Ray LaMontagne long before his hit, "Trouble" was featured on an insurance commercial. I played all of his albums on repeat while I worked on my novel last year. Seriously. On repeat. 1-4 hours every day for 6 months.
In fact, Ray Lamontagne's powerful gift of songwriting was such an inspiration for my book that I have every intention of mentioning him on the acknowledgement page once it is published. Then Kathie Lee and Hoda can ask me between wine burps, "Tell us, hiccup, Susannah, just how Ray LaMontagne served as your muse. Hiccup."
My husband, being the awesome life partner that he is, surprised me with RL tickets for my birthday a few weeks ago. Third row, baby. To say I was ecstatic was quite the understatement.
And then I heard how Ray went all loco on some fans for talking in the front row at his concert in Grand Rapids on July 23rd. I was going to see him at his very next show on July 25th. He would still be all ticked off about the rude chatter. And I've been known to come down with diarrhea of the mouth after one measly glass of wine. So, I was worried that my creative inspiration was going to go ape feces on me. Because it would be JUST MY LUCK to get cursed out by my muse.
Trouble. Trouble, trouble, trouble…..
In less than two hours, we arrived in Nashville. My husband told me we were staying at a rinky dink place close to the airport. Since he'd splurged on awesome tickets, we had to save money somewhere. I understood, but I was sort of nervous about staying in a place that may have a chalk outline of a body in the lobby.
Husband surprised me again when we pulled into the beautiful and ultra-posh Union Station. He read a brochure on the history of the place, so he sounded extremely intelligent when he said things like, "the lower level burned in 1947." PS- I don't think he ever said that. I'm only making up stuff because I didn't listen to any of his history lesson. I really wish I had, but I was so excited that we weren't staying in a motel that rents rooms by the hour that I couldn't concentrate on much.
I wore a really cool dress that I've been saving for a special occasion and I put on eyeliner. We ate at the hotel's fancy schmancy restaurant that served weird (but delicious) stuff that made me question whether every bite was edible or garnish before I shoved it in my mouth.
I've been to many concerts in Nashville, but I've never been to The Woods Amphitheater at Fontanel. It's an absolutely beautifully charming place nestled in a valley on the former estate of Barbara Mandrell. I was going to lounge beneath the summer stars and soak in Ray LaMontagne's raspy, soulful voice resonating off the hills and through plush green woods. And I was going to pray that he didn't ask me to leave his show in front of thousands of people because I thanked my husband out loud for making it all possible.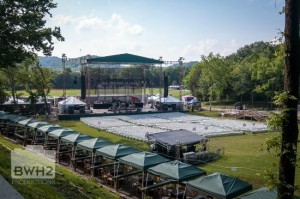 We walked through the crowd and I saw Paul McDonald casually standing by the port-o-potties.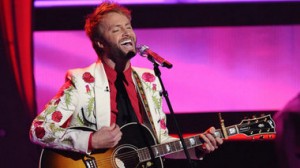 Yeah, re-read that sentence if you want. It will be just as random as it was the first time you read it.
"That's the American Idol guy that wore that crazy rose jacket and has abnormally white teeth. I voted for him!" I punched my husband in the arm.
My husband said I should go talk to him.
"He's just standing there all alone. Maybe he doesn't want to be bothered," I said.
Husband shrugged.
"Yeah, I am going to go talk to him. I'm going to tell him that I'm a freelance writer for The Huffington Post and ask him for an interview. I'll make myself sound more important than I really am."
Husband said that was a cool idea and he went to the bathroom. And I just stood there staring at this guy with glowing teeth that was not an American Idol. What in the world was I going to ask him? Does he use Crest or Colgate? Would I tell him that we had much in common because I was a runner up in Blogger Idol? And I also owned a leather rose jacket? Would this interview help my journalism career in the slightest? My phone and my husband's phone were both dead, so I couldn't even take a photo with him to post on my Facebook page. What was the point, really?
"Are you going to talk to that guy or what?" Husband asked.
"Meh. It's not like it's Fantasia Barrino. Let's go to our seats."
We watched two really great opening bands, The Shadowboxers and The Belle Brigade (TBB is also serving as Ray's band for this tour and has a really outrageous girl drummer). Those groups were all fine and dandy. But then the sun set. And the hills came alive with the sound of crickets. And the summer breeze turned cool. And it was time.
When Ray LaMontagne came onto the stage, I was so close to him that I could see lint on his cargo pants. I could see sweat on his brow. I think he may have spit on me at some point.
He played an amazing set, including my favorite songs, "Jolene" and "Repo Man", and I was seriously ticked that my phone was dead and I couldn't record it. I even whispered during the show a few times and he never came down off the stage and put me in a choke hold. And our eyes locked when I told the drunkards behind me to "Shhhhhh".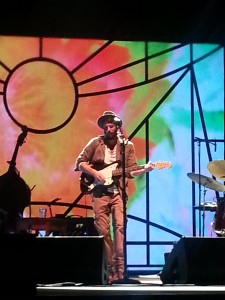 He could see into my soul, that Ray LaMontagne. He saw me handle the rude chicks that would rather talk about Spring Break 2008 on the Redneck Riviera than listen to the poetry flowing from his lips. And, through his eyes locking with mine, he thanked me the same way that I intend to thank him on my novel's acknowledgement page.
I fell in love with Ray LaMontagne all over again last weekend. His words. His melodies. His mannerisms. His gift for birthing real music in a world where half-naked girls with crappy auto tuned voices is considered awesome.
And I fell in love with my husband all over again. His jokes. His hand in mine. His surprises. His lifelong desire to make me happy.
I've been to many concerts over the years. I've seen legends. I've crowd surfed. I've touched the hem of Fred Durst's Dickies (Limp Bizkit circa 1999), but I've never walked away from a show with my heart full, overflowing and abundantly full, until I walked away from Ray LaMontagne.
Thank you, Ray.
You're the meaning in my life. You're the inspiration. You bring feeling to my life. You're the inspiration.
Wait, that's Chicago.
** I'm also ecstatic to announce that my daughter and I were both baptized today and our family officially joined the church that we've been attending for quite some time. It's been an extremely special and blessed day and I can't wait to see what awesome things God has in store for us.
(Visited 13 times, 1 visits today)