After church this morning, my daughter and I decided to go to lunch solo, sans the male members of the family. It's only day 3 of Christmas break, and my husband and her brother are both getting on our nerves, respectively. So, we left them to eat ham and cheese sandwiches and stale Annie's Cheddar Bunnies and we headed down to our local diner.
We both ordered breakfast because there's never a wrong time to consume greasy sausage links and hash browns. Then we chatted about mundane things like where butter comes from and her baby brother's latest tantrum which stemmed from his refusal to get off the toilet this morning so she could use it.
I don't condone physically removing your younger sibling from the crapper and pushing him into the bathtub unless it's early and you really really really need to go and he just sits there dangling his legs and refusing to get up because he finds joy in being a pain in your backside.
I've digressed.
So, as we were chatting, the kids in the diner began proclaiming, "There's Santa!"
I looked up and saw this jolly old man with a long white beard walking through the door. He was wearing a red shirt under his suspenders and he parked his big round butt in the booth right next to us.
And then he ordered a roast beef sandwich with a side of Au Jus and tater tots. Because he's carb-loading for all of the work he has coming up. Obviously.
My daughter was overcome with suspense.
"Is that him, Mama?" she quietly asked me as she glanced at him out of the corner of her big blue eyes.
"Do you think it is?" I shrugged.
"It may be. His beard looks real." she eyed the long white hair hanging from his kind, rosy face.
She's 8-years-old and I know that magic bell will one day soon stop ringing for her, so I welcome these moments when she's so consumed by the belief and magic of Santa that her eyes twinkle like stars.
"Yep, those whiskers look pretty real to me," I said.
The jolly old fellow noticed her stare. He pulled a candy cane from the pocket of his trousers and reached over and placed it on our table.
"Merry Christmas," he winked at her.
The look on her face at that moment is one that I will forever cherish.
On Christmas morning, when she's 16, sitting on our living room floor in my old Led Zeppelin t-shirt, plaid pajama pants and plain white socks and unwrapping expensive presents that she knows were purchased with Daddy's debit card at Best Buy, I know the happiness on her face will never compare to what I saw today.
The true joy of Christmas was broadcast loud and clear on those baby cheeks and in those beautiful aqua eyes.
"It really is him, Mama," she grinned ear to ear.
"I think so, too."
"Noel (our Elf on the Shelf) must have told him how ridiculous (brother) acted this morning. That's why he's in town."
"I think so, too."
Thanks, Mr. Au Jus, for ringing that bell loud and clear for her this morning.
Merry Christmas.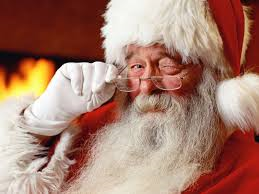 (Visited 116 times, 1 visits today)