Sometimes I dream about the cracks in the sidewalk. That cavernous pit on Key Corner that always grabbed the front wheel of my skate and sent me plummeting to the hot asphalt. Blood dripped down my leg as I continued my journey to the Exxon for a grape Slush Puppie on a hot summer afternoon.
My hometown. A small, southern speck on a map with population: not enough. The place where I spent my childhood. The place where my parents and grandparents spent theirs. Brownsville, Tennessee.
My great grandmother, Bess Brown, once told me that the town was named after our family. We'd founded the whole tiny place, in all of its boring glory, she said. Of course she was 101 years old at the time and couldn't distinguish a car from a Coke can, but I believed her in my childish naivety. I peddled my hot pink Huffy bicycle through the neighborhood thinking, "This town is mine."
My maternal granddaddy owned the corner drug store years before I was born and emphysema had riddled his body. I remember pictures of the store, though, and how I thought it looked like a place right out of Mayberry. My mom kept big glass bottles that had once contained Coke and grape syrup, and I'd stare at them and think about the old days in black and white when having a soda at a counter was a real hoot. My paternal grandmother was a favorite teller at the big bank with the indoor waterfall. She always gave me a handful of suckers when we visited, and then she strutted me around to show me off to all of her friends. She made a bigger deal about me than necessary. I hadn't scored a single point in the church basketball game last night, but she made me out to be the next Wilt Chamberlain in pigtails and jelly shoes.
I remember the sound of the big trucks roaring by my grandmother Lucy's house. They shook the tall window panes and drowned out the sound of Hee-Haw on her television with rabbit ears. I spent summers carving graffiti (boys names surrounded by hearts) on the back of my grandmother Rebecca's shed. The same shed where my dad held band practice back in the 60's. Their claim to fame was wearing high water pants and winning a talent show. I heard they could play "Gloria" like Van Morrison himself.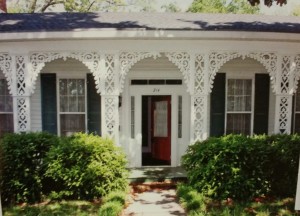 I remember the ugly red carpet in our church. It covered the alter where people wept and repented as a fat southern preacher shouted about hell and damnation and wiped sweat from his brow. That bleeding red carpet soaked in the sounds of my mother, the pianist, banging out "I'll Fly Away."
I remember the funeral home, with it's green carpet, as equally as ugly as the church's floor covering. It was the funeral home where my daddy slipped away at his father's visitation, and my mother motioned for me to follow him. I'll never forget finding him in a dark back room crowded with folding chairs and a dusty organ, and he was sitting on the floor weeping like a baby. That was the only time I'd ever seen my father cry.
It was the same funeral home where I saw all of my grandparent's sweet, caring faces for the last time. The same funeral home where I felt proud because the line of people to see my young dad in the casket was so long that it spilled out onto the sidewalk and around the corner. I'd never known how good a guy my dad was until that day. That many people don't come to pay their respects to just any old scoundrel.
My hometown. Where I heard names like Miss Fannie, Aunt Ottie, Mr. Parker, and I knew immediately who they were and every name that rested on the branches of their family tree. We all knew one another, you know. I never went to a gas station, a diner, a Peach Festival without my grandparents talking with ladies wearing too much rouge or men with walking sticks about how so-and-so's boy just wasn't right after the war.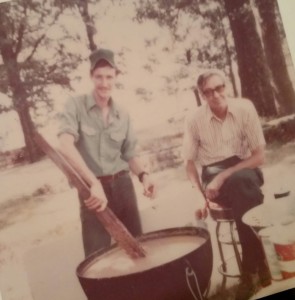 That little place where I could roam from one end of town to the other on some kind of wheels and never worry about kidnappers or scary guys in conversion vans. The place where I raced down a hill on a grocery cart and nearly spilled onto Main Street and got hit by a Mack truck. I ran back into the grocery store to find my mama, my short life still flashing before my eyes. That store. I've memorized each aisle in that store. I can still see the big bell shaped like a cow that sat at the meat counter. "How may we serve moo?"
The place where I ate too many ice cream cones and thick-cut bologna sandwiches. The place where I learned piano from a woman with the oldest, but prettiest, hands I'd ever seen- covered in wrinkles and liver spots, but nails always freshly painted peach. Her house smelled like old lady powder as I read my sheet music by the antique lamp on her upright.
The old familiar place where we had family reunions in little cabins littered with saw dust on Tabernacle Road. Where the grown ups drank iced tea and situated box fans to help ease the sweltering summer heat. Where the kids played hide and seek in a graveyard. Where I was too fat to hide behind the skinny tombstones.
But when I got older, I was tired of running into familiar faces everywhere I went. I was impatient waiting on my elders to finish reminiscing. I didn't want to discuss someone's bursitis or listen to the latest scandal at the country club while in the waiting room. I just wanted to buy a Creed CD at Wal-Mart and hop into my car and go do the things teenage girls do without being interrupted by this small town's gossip. I didn't want to be where everybody knew my name, my family tree, or the stories about the crazy things my dad did in high school. By seventeen, I was bored with it all. I wanted something new.
So we left. Once my father and my grandparents were all buried in shady plots on opposite ends of town, my mother and I packed our things and left. She left the sidewalk cracks that she often dreamt of. She left the town that had produced fifty years of memories for her. Granted, we only moved thirty miles from that small, southern speck on the map, but I was relieved that I could finally go shopping without running into a single person I knew who wanted to tell the same tales I'd heard 3.4 million times.
I grew up and accomplished goals. I went to college. And I met a boy. And we got married. And children were born. And guess where we ended up? A hop and a skip from his hometown. Not mine, but his.
We go to the diner after church, and the children and I are halfway done with our meals before he's taken the first bite. He's off gabbing with an old man donning a yellow beard who took him fishing once when he was five. My husband had a crush on his granddaughter in elementary school. He knows everyone here, and I don't.
They'll try to explain to me who so-and-so is. "You know, she was the one who got married in high school. Her mother worked for the dentist. You don't know who that is? They grew up on 187."
No, I don't know who that is. This isn't my hometown.
I see an older lady sitting across from me at church, and I wonder about her backstory. I knew all of the old women at my childhood church. I knew their families, their professions and even their ailments. Have to pray for Mrs. Betty. She's having the migraines again. Mrs. Betty always had the migraines.
I never thought I'd miss my hometown, but I do. No, I don't want to live there again, but I can't forget my childhood or the place where I was raised. I miss thinking, although it was never necessarily true, "This town is mine."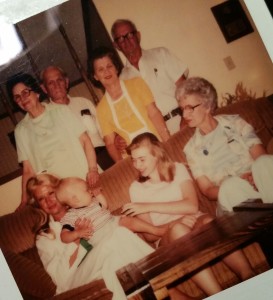 Sure, I've met many people and learned a lot of new stories since I've been living in my husband's neck of the woods, and I've made wonderful friendships and bonds that have blessed my life tremendously, but I can't help but think sometimes, as they discuss something unfamiliar that happened years ago, that this isn't my town. I love this town. I really love this town, but it isn't mine.
However, this is my children's hometown. Like the sidewalk cracks, my daughter will one day dream of the manhole cover at the end of our driveway- the bumpy lid that rattled beneath her scooter's wheels. My boy will remember the ball field where he would rather dig his cleats in the dirt than tag a kid on second. They'll remember their teachers, their mud pies, their bugs in a mason jar, their childhood here in this small, southern speck on a map.
This is their hometown.
But it's not mine.
"But why had he always felt so strongly the magnetic pull of home, why had he thought so much about it and remembered it with such blazing accuracy, if it did not matter, and if this little town, and the immortal hills around it, was not the only home he had on earth? He did not know. All that he knew was that the years flow by like water, and that one day men come home again."
Thomas Wolfe, You Can't Go Home Again
(Visited 1,889 times, 1 visits today)