Aside from my mother's eulogy, I haven't written anything in eleven days. So sitting down to write this feels sort of odd and foreign. Eleven days is a long time for me not to have written anything humorous or added a chapter to my novel.
Instead, the last eleven days have been hell. Eleven days of being nauseated at the very thought that my mama's name will never again pop up on my Caller ID. Eleven days of emotional rollercoasters- moments of peace that she's in Heaven, followed by moments of selfishness because I still want her here with me. Eleven days that I wish we didn't have to experience.
Eleven days of me warning everyone who comes in the house not to throw away the Sesame Street cupcakes in the refrigerator- although they are old and messy and hard as rocks- because my mother brought them for my son only days before she died.
Eleven days of piles of laundry and dusty floors and my children walking out of the house without having all of their homework done or pants that match their shirts or brushed hair because I don't care about chores and tasks and responsibilities.
Eleven days of me lying in a bed because I can't move once I open my eyes after unsound sleep and my first thought is, "Mama is dead."
Eleven days of not writing because it is too painful.
I said in my mama's eulogy what an influence she was on me with her storytelling and writing her own tales and poems. I don't know how I'll make it through so many more years without hearing the factual stories of her youth or the fictional stories about fairies and farms and characters with funny names. She's influenced everything I've ever written- with her love for elaborate synonyms, and her humor, and the way her mind worked to weave a plot. She's always been the reason I do what I do, and without her, I don't have the desire to do it anymore.
She went to bed eleven nights ago, with her suitcase packed at the foot of her bed for her upcoming trip to Destin. She went to bed with a glass of water on her nightstand and her church clothes hanging on the chest of drawers. She went to bed healthy and fun and beautiful and never woke up. My husband was the first to find her lying there, and when he walked in our house with eyes soaked with tears, I knew she was gone. I fell to my knees, and I knew that the next eleven days- months and years- would produce this hollow and sickening feeling.
I've been terrified to be alone since that Sunday morning. My sister or brother or husband or children have been with me every second of the last eleven days, but now I'm alone. Life goes on, the kids go to school, the husband has to go back to work, and I sit here surrounded by these piles of laundry and dusty furniture and responsibilities and sympathy cards and beautiful ceramic angels and gifts. I look out the window to a pool that desperately needs vacuuming, a dog that needs brushing, mums that need watering, but I can't move. I want to call my mama and ask her what to do.
If only the last words I'd told her were "I love you". If only I'd taken more time to sit on her couch and talk with her instead of popping in for short visits because I had to get the kids to softball or go home to write or do whatever I thought was more important at the time. If only I'd recorded more of her beautiful, flawless performances on the piano. If only I'd listened better when she gave me advice or told me how to can tomatoes or make buttercream icing. If only I'd known the last time I spoke to her would be the last time- all the things I would have said.
If only I'd known that she was going to die on my daddy's birthday. She was reunited in Heaven with him on his very birthday, which I have to believe is something other than beautiful coincidence. But all of that- his birthday, her death, the day I officially felt like a 34-year-old orphan, the shock of it all- that was all eleven days ago.
I remember the toughest time of grieving after my father and godfather died- the days after- maybe the 11th day or the 12th, the month after- when the calls and letters and hugs stopped. When the shock wears off and you find yourself forgetting for a moment that she's gone- you crave her meatloaf and hearing her play the piano and her story about the crazy fool who rode around town on a motorcycle in the 50's with a colander on his head. When people see you in the store and forget that you just experienced a great loss and they instead talk about their child's latest bout with eczema or the funny thing they saw on TV. Your tragedy is old news and life goes on for everyone else- husbands go back to work, children need to send in money for the upcoming field trip, there's a new party invitation in the mail, a new book signing you are supposed to attend. Facebook statuses about other people's normal are unbearable to read, and you're left with a hole that will never be filled.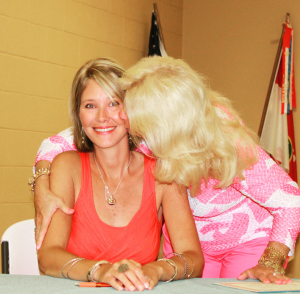 I've been through this hurt before, and I know I will smile again. I know the Lord walks with the brokenhearted. I know I will write again, and laugh again, and life will eventually go on, but not today. I'm not ready to live today as I did eleven days ago- as if everything is normal. I'm not ready to leave the bed or go to the grocery or look at Facebook and like photos of other people's joy. I'm not ready to wash the clothes or vacuum the pool or brush the knot out of the dog's tail. I don't know when I'll be ready to embrace this new normal without my mother here.
Today is the 11th day, but to me, it still feels like the first.
(Visited 209 times, 1 visits today)