Shock, deep sorrow and mourning are only a few of the emotions that accompany the loss of a loved one.  But eventually, thank God, the shock wears off, the deep sorrow is lessened, the mourning wanes more than it waxes. However, one emotion that forever remains constant is regret. It eats you alive, that disgusting, painful, gnawing, cancerous regret. Thinking about it for only half a second takes you to that abysmal, dark, dreaded place in your soul that's often too painful to even acknowledge.
Things you should have done, or said, shouldn't have done or said.
I have regrets regarding both of my parent's deaths. Regrets that will always haunt me, despite the hours of counseling sessions that attempt to brainwash me to forgive myself because I know, I truly know, my parents would have forgiven me had they lived long enough to get the chance.
Daddy was the first to die on a cold, wintry November day in 1992. I was angry with my father, as was my mother, because he'd been out drinking the night before he died. This was a big deal because he hadn't had a drink in over a year, clean and sober for so long. But on the eve of his death, he thought a Jack and Coke at a camp house on the river sounded like a good time. Have a few drinks with friends, strum the guitar, a game or two of cards, another drink and another until it was after 2 am and my mother and I were both pacing the house while my mama prayed that he wasn't dead in a ditch.
When he finally phoned home during the early morning hours, my mama really let him have it. I remember watching her yell into the cordless phone, her face beet red, her veins bulging, and she told him, "You won't put us through this again. You'll never put us through this again!"
He didn't put us through anything again. He died the next day, after a round of golf at the country club. I was alone with him. Eleven years old, and I watched my father collapse to the floor.
I was still mad at my daddy when he drew his last breath.
Nearly twenty-three years later, September 18th, 2015 ( on my tenth wedding anniversary), I yelled into a phone. Eerily similar to the way my mother had shouted at my father on that cold November night. My neck vein was bulging as I examined my beet red face in the bathroom mirror. I stood at my vanity, the vanity that I stand at every day and replay the conversation in my head. I told my mother, whom I loved more than my own life- I told my precious, sweet mother, "I'm done with you, Mama. I AM DONE."  The next night, my mother died. She died on my father's birthday.
I was still mad at my mama when she drew her last breath.
Regret. It's hot and sharp as iron. As I toss and turn in my bed night after night, tears soaking my face, I feel such intense regret that I just want to scream, to run, to make it stop. I want to close my eyes so tight that I wake up in Heaven with my parents. I want to wake up where they are and cry to them how terribly sorry I am.
My counselor tells me I have to let it go. I know I do. I know my father and mother have already forgiven me. They spend their eternity praising our Savior in a Heaven so real and pure and gorgeous that they are no longer concerned with matters of this earth. They feel no sorrow for my actions, my thoughts or my words. They aren't angry with me. I know this. I really do know this. But I'm incredibly angry wi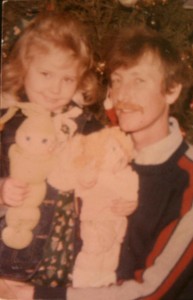 th me.
You can tell me I have to forgive myself, but it falls on deaf ears. I simply cannot do it.
Despite the anger I felt towards them both on the last days of their lives, we were happy the majority of the time. I had a lovely childhood. My dad was a drinker for many of my adolescent years, but he was still a great dad. He was a good, hard-working man. He loved me unconditionally. I never doubted that I was the apple of his eye. I never doubted the love my mother had for me, either. She always made me feel beautiful, special and adored.
I think about this so often- why couldn't my father have died while he was sober? Why couldn't he have died when the feelings I had for him were, "I sure love my daddy"?
Couldn't my mother have passed away in her sleep some other night? Any other night? One of those thousands, millions of other nights when I talked to her on the phone before bed, we laughed about any and everything, and my last words to her before hanging up were, "Love you, too, Mama."
I think about it so often, how it all happened- how both of my parents died when I was angry with them. How I thought and said those vicious, callous things only hours before they were gone.
And then I go to that really terrible place. The regret is magnified by thousands when the thought crosses my mind that I'm somehow responsible for their deaths.
I know it sounds asinine. I didn't kill my parents. God already knew the days they would die on the very days they were born. But still. From time to time, I think it may just be possible.
Was it my fault that my father died of a heart attack at 42? I mean, the man smoked like a freight train, not to mention the years of liquor that ran through his liver. But surely my cries over the phone for him to come home in November 1992 weren't enough to break his heart, to make it actually stop beating? Surely his own regret wasn't too much for him to bear, was it?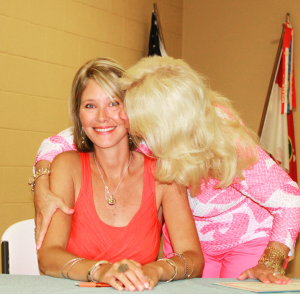 And my mother, we were so close. She was everything to me, as I was to her. Our bond, our relationship was so resilient, so beautiful, but so messy at times. We were identical- both bullheaded and stubborn. That's why we fought the day before she died. She didn't agree with me, and she was too proud to admit she was wrong. I was too proud to bite my tongue. Did my words, "I'm done with you, Mama" make her blood pressure skyrocket? I was her baby, her little girl, even as an adult, so did my heartless, malicious words upset her so much that her heart just couldn't take it?
That's what I fear.
I wish I hadn't been so mad at my daddy the night before he passed away. I was only eleven and didn't understand that alcoholism was a disease. I just thought he drank that night because he didn't want to be home with his family, and that made me angry. I thought he was a crappy dad for giving into temptation. The night before he died, I hated him. I didn't think about what a good father he was before that night. I just knew that he was out drinking again, and I hated him for it.
I wish I had kept my mouth shut when my mom called me that sunny, September afternoon. Wish I'd pacified her anger with, "Okay, Mama." If only I'd just shut up and let her have her way- been less proud, less stubborn. Then I wouldn't have to live with the regret that the last words my mother heard from my lips were, "I'm done with you." How that must've broken her heart. Her baby girl, her everything, the child she raised on her own because her alcoholic husband was dead, told her she didn't want to have anything more to do with her.
Of course I didn't mean it. I felt immediate guilt when I said it. I planned to call my mother the next day, as she drove down to Florida for vacation. I planned to call her and make amends and tell her that I was sorry. I'd never write off my mother. I'd never be done with her. She was my mother. My friend. My confidant. My spiritual advisor. The grandmother to my children. My laughing buddy. The only one who could rub my head until I fell asleep. She was the only soul that could pray such powerful prayers over me that I immediately felt the peace of God. Of course I wasn't done with her. What an idiot I was to say such a callous thing.
And of course I didn't hate my dad. I didn't hate him, but I just didn't want our family to be torn apart because of his drinking. I didn't want my mother to divorce him. I just wish I hadn't thought such horrible things about him before he died.
They are both gone but those words and thoughts remain. Gnawing and biting and ripping away at my soul. You see me laughing with my friends, cheering at my children's ball games, posting funny videos. But it's there. The last spiteful words I spoke to my mother, the last unkind thoughts I had of my daddy, that regret. It's there.
And it always will be.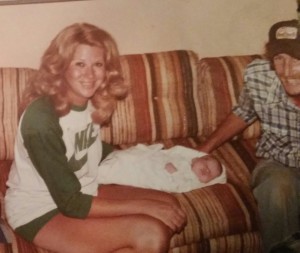 (Visited 6,534 times, 1 visits today)