I used to title the posts pertaining to my mother's death by the number of days she'd been gone. Day 11, Day 42, Day 87. I kept up with those days the same way a new mother keeps up with the weeks since her newborn's birth. But now, it's morphed into months. Too many days have passed since my mama took her last breath on this earth. I can't keep track. My mother has been dead for seven months.
I just went back and re-read that paragraph and reality set in. Seven months. Seven long, agonizing, lonely months since I heard her laugh or felt her touch or watched her hands scale the keys of her piano, when it feels like only yesterday she called me on the phone and greeted me with, "Did you hear what Obama just did?"
If you've been following my journey since she ascended to Heaven, you know what a crucial role the piano played in her life, in my life. I've shared videos of her flawlessly playing by ear. I wrote, in extreme detail, (click here) about the day the movers took her baby grand out of her home. I've relived and written of the memories she shared on a piano bench with me every Christmas, how I can still see her teaching my 2-year-old daughter to play "Twinkle, Twinkle Little Star".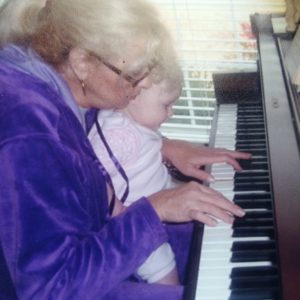 The bond my daughter and mother shared was absolutely beautiful. My little girl spent many weekends at her house during the school year, and weekdays at a time during the summer months. I still find mementoes she brought home in her suitcase after their time spent together. Photos of them making silly faces at the booth at Chuck E. Cheese's, a theater receipt from the "Jurassic World" matinee, notes taken when they played school together, songs they wrote on the piano. I browse her iPad and discover text messages in which my daughter told her mammy all that she'd learned at school that day about the Titanic.
My little girl thought her grandmother was going to live forever. She thought they'd go on making memories, taking trips to the beach, laughing, having tea parties, and playing the piano together. I knew it wouldn't last forever, but I thought we still had a lot of years left.
Recital day was always like Christmas for my mama. She was so extremely excited, and she made sure her phone had enough memory to capture the recording of her beautiful, blonde-headed granddaughter playing that Steinway in the recital hall at a local college. She and I would both tear up at all of my daughter's performances, but especially my mother- because her grandbaby was carrying on her love of those 88 keys.
My 9-year-old daughter's first piano recital without my mother beaming with pride from the audience took place last Sunday. On the ride there, as my little girl practiced her piece- her little fingers finding imaginary keys on the back seat- tears poured from behind my sunglasses.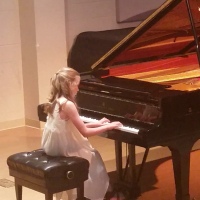 She sat at the piano bench in that vast recital hall, and she began to play. Looking so grown up, looking so professional and really showcasing her talent that began so many years ago in my mother's lap as she banged the C key and sang a song about a little star up above the world so high, she played her piece. She crossed one hand over the other and her little foot pressed the pedal.
I recorded her impressive performance, my hand shaking a bit because I was nervous and excited for her, but also because I was so sad. Sad my mama wasn't sitting close enough for me to hear her sniffle over the sound of her granddaughter playing.
My mama wasn't physically in that recital hall, but I know she was smiling from Heaven. "Jesus, that's my sugarbaby. Thank you for giving her the gift of piano. Thank you for letting a little bit of me live on through her."
Month 7. That's where I am. That's where my little girl is. It's been too long to accurately keep up with the days anymore, but still so fresh and so raw in our hearts. The firsts are coming and going. The first Christmas, first birthdays, first piano recitals without her here. Maybe by Christmas #35 without her presence, I won't feel the sting as much.
But I'll always, always, feel it- that bittersweet sting, a sting of both beauty and longing- when my daughter plays the piano.
*Mama and The Girl Playing- 2013 video below
(Visited 238 times, 1 visits today)