It was the year of our Lord 2002, and I had no responsibility whatsoever. No children, no bills, and my only worry was that I couldn't turn off the obsessive need to graph sentences in my head, even when I was on college break.
My current husband was then my boyfriend, and one night our mass alcohol consumption led us to a trailer park. Although I was born and raised in the south, this was my first visit to an actual trailer park, and I was somewhat frightened.
Question: Girl, why were you frightened?
Answer: This wasn't a nice mobile home community. This was a bonafide southern trailer park, complete with 22 foot tall weeds growing through lawn furniture, rusted tin garbage cans, old appliances setting among the landscaping, and there was a lone Big Wheel next to a dumpster. There's always a lone Big Wheel.
I was scared, but if some young redneck kids lived in a trailer park with a full keg and promises of Limp Bizkit on their stereo, then that's where I was headed in 2002.
Things were hazy by 3 am, and I made my way to the bathroom in said trailer.
While sitting there, I heard a sound. Twas merely a squeaking sound. As I tried to process this sound, I felt fur rub against my leg. I thought this could be hallucinations from Fred Durst's voice singing "Nookie" or the massive amounts of alcohol.
However, I wasn't hallucinating. There, curled next to the toilet, was a mother cat and new kittens. I don't mean new as in a few days old. I mean new as in they were in need of mama cat to lick the afterbirth from their fur.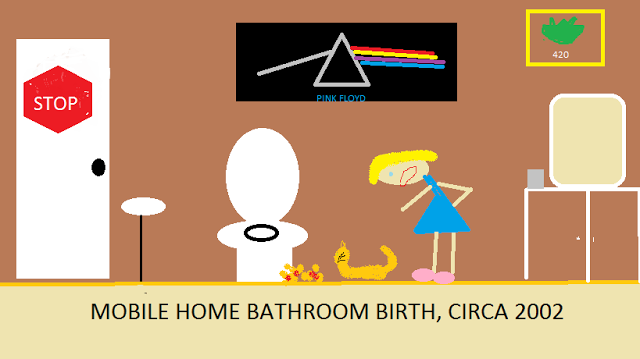 Stunned and drunk, I knew I should search for some Dawn dishwashing liquid because it's known to remove oil from ducks, so it should surely remove placenta from kittens. I knew I should call for help, and puke, but I did nothing. I just sat there and felt like I was in a scene from "Milo and Otis". I did nothing.
There, at my feet in a mobile home bathroom, new life had entered this world…as it often does, and I was more concerned with making my way back to the living room to search for a Rage Against the Machine CD to replace the now annoying sounds of Limp Bizkit.
I suppose I should have found the 21 year old homeowners to break the news that they were grandparents, but I did nothing. Nothing.
I woke the next afternoon and immediately thought, "Didn't something magical happen last night? What was it? Did I give Ed McMahon a full body massage for a Publisher's Clearinghouse check? No. Did I do a handstand while wearing tassles of some kind? Not this time. Did I eat chicken nuggets with a wizard name Waldorg? No. Oh, yeah, I witnessed cats giving birth. And I did nothing."
Needless to say, I don't drink anymore. And I don't go to parties in trailer parks.
I'm linking up with Yeah Write #77 this week. Mosey on over there and see what all the hubub is about. You'll be amazed and stuff.
(Visited 6,505 times, 1 visits today)