If you don't know what Beggars Lice is, then the title of this post has probably confused (and sickened) you a great deal.
Yesterday, my family and I spent hours walking around in the country. It wasn't as aimless as it sounds- we were checking out some property where we hope to build a home someday.
Since the northern wind was sharp as a knife, I dressed my kids and myself in warm sweat pants and hoodies. It turns out that the soft fleece-like material is a magnet for Beggar's Lice.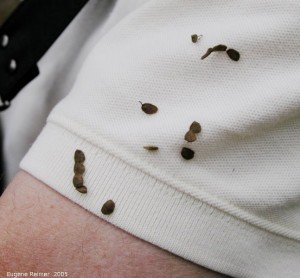 These annoying little crumbs aren't lice. They aren't blood-sucking parasites of any kind. They come from a weed- an appealing lavender weed. They are like little sticky leaves. As we walked through the field, my children and I were covered in them. My son, being incredibly OCD, spazzed out and wanted to remove his clothes and come home IMMEDIATELY.
Once he realized that his sister had more of them on her clothes than he did, his mood changed. He suddenly became jealous that she had more than him. He's jealous when she has more of anything- candy or Beggar's Lice. It doesn't matter.
When we got home, I was in quite a pickle of how to remove these stubborn a-holes. I didn't know what they were even called at the time, but when my mom showed up today to see me picking them off- with a trash can full of 2 million and at least 3 million left on our pants, shoes and socks, she squealed.
"Oh, Beggar's Lice! I used to pick those things off your daddy's coveralls after he'd gone hunting."
"Beggar's who? Lice? That's not really what these things are called?"
"Google it. They are Beggar's Lice."
So I did Google it, and my mother was absolutely correct. I found a webpage devoted to the things and how to remove them. They suggested that instead of picking them off one by one, I should use a butter knife to scrape them.
So my mother and I spent hours hovered over the kitchen sink today scraping Beggar's Lice from my children's clothing. She shared stories about the countless times that she picked those annoying plants from my dead daddy's hunting clothes. It was magical.
It ranked right up there with making pumpkin pies together on Thanksgiving or watching Alfred Hitchcock marathons while we talk on the phone.
Magical, I say.
Thank you, Beggar's Lice.
See you tomorrow, NaBloPoMo.
(Visited 232 times, 1 visits today)