I don't even know how to put into words how I feel about my guest blogger this week. I am absolutely in love with Christine Carter of The Mom Café. She is the very person that proved to me that internet friendships do exist. We have laughed together, prayed together, and she has shown me true friendship- and I've never even met her. Her sweet spirit is exuded through her words and her blog is a wonderful place of encouragement and kindness. She is truly a blessing to me and I'm so proud to have her words on my blog today. Please read her precious story that I'm sure will hit home with you as it did with me- and then visit her blog here. You'll be so glad that you did.
Mommy Come Love On Me!
 "MOMMY!  Are you COMING?"
As I scurry around the kitchen putting this away and that, trying to tightly tuck away the day's mess…
I hear his cry.
"Mommy!  Come love on me!!"
"I am coming!!!" I respond with exasperation.
"MOMMY!!!!  Where ARE you?!!?"
My husband once again reminds me he is waiting…
I know this.  He always yells for me, and then he waits for me.  He needs me. 
All of me.
Now.
I need to just STOP what I am frantically trying to finish, and seal the day off with our traditional "good night".  I run upstairs to find his arms open wide while his tiny body lies underneath the layers of blankets, nestled in with his arms stretching out for his mother's love.
"There you are mommy!!  Come love on me NOW!!"
"Of course I'm here! I always come, don't you know that honey?"
"Yeah, but I was waiting.  You have to love on me or I can't go to sleep."
I climb on top of my baby boy, smothering him with kisses and squeezes that he so desperately needs.  I snuggle closer, tighter in… as he reaches his scrawny arms around my neck, giggling and soaking in my passionate and sometimes suffocating breath of my heart.  I fall beside him and pull him so close that there is no part of my body that doesn't engulf his.  My boy oozes with light, in my maternal embrace.  
"Rub my back?  Kiss me more! Could you stay for a long time, Mommy?"
Oh, how I wish I could sweet boy.  I want to stay like this, locked together forever.  I want to linger here, in this moment until you don't want me near you- Those days that lie ahead, when you have grown with discomfort in my presence, my touch, my love."
How long do I have?  How many days do I count, until his tiny arms won't reach for me?  What night will come, when I don't hear his sweet innocent voice beckoning for my love?  When does this love affair stop?  Will he push me away and tell me I'm gross?  Will he smell of teenage odor and lock me out behind his bedroom doors?  Do I truly grasp the reality of this time pushing through these beautiful "goodnights"?
Oh, I beg for this moment to never pass into the next…
Because I know where it leads. 
Slowly, assuredly… away.
Tonight, my baby needs me to wrap my arms around him and hold him tight.  Linger in his precious presence and pour my love on him, as he drinks it up with a desperate need for more. 
I will savor this moment.  This baby of mine that longs for my love and goodnight kisses… calling out my name in search of my heart.  A child with an urgent need only quenched by his mama.
I already beg for more time.
As it drifts away from me… uncontrollably and dreadfully so.
I won't ever make him wait again.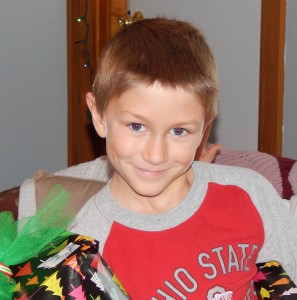 (Visited 14 times, 1 visits today)